Looking for something new as you continue your spirit journey? Then J & G Thomson & Co., innovative Scottish master blenders, could have the answer. This newcomer has a range of whiskeys, rums and gins to suit almost every taste. The recently launched range has already started taking top prizes in UK spirits competitions, so their pedigree is strong.
Gin, rum and whiskey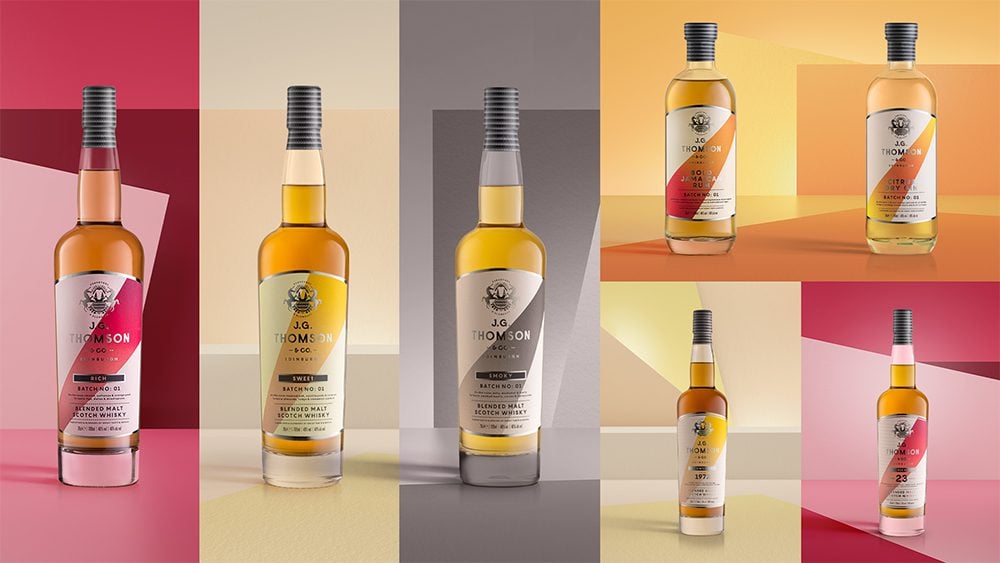 The core range consists of a gin, a rum and three blended malt Scotch whiskeys – a blended malt is a whiskey made up of several single malts from different distilleries. They are all made in small batches and bottled at 46% ABV. The branding keeps it simple to break down the often confusing barriers found on many liquor labels.
The tree blended whiskeys are a good example of this. Smoky, Sweet and Rich point consumers in their preferred flavor direction with a predominance of peat, bourbon cask and sherry cask characteristics, respectively. The Citrus Dry Gin and Fat Jamaican Rum also indicate exactly the style of the spirits to be expected.
Occasional limited editions
In addition to the core range, J & G Thomson & Co. also occasionally release limited editions. This program started with two special Scotch whiskies: a 23 year old blended malt using only single malts from Speyside distilleries and a blended grain whiskey from 1972. Like a blended malt, a blended grain consists of several single grain whiskeys from different distilleries . In this case, they were all distilled in 1972.
A rich history
J & G Thomson & Co. are named after and inspired by merchant JG Thomson. Operating in the 18th century from Leith near Edinburgh, he traded and bottled imported wines and spirits arriving at the Leith docks for discerning drinkers in Scotland's capital and beyond. The Port of Leith has a history of liquor and the company's offices are in the exact building that belonged to Thomson in the 18th century.
J & G Thomson & Co. was founded by The Artisanal Spirits Company which also owns the world famous Scotch Malt Whiskey Society. Their focus is on bringing characterful spirits from high quality barrels to a wider audience. They are one of the world's leading curators and suppliers of single cask and small batch scotch whiskeys and spirits.
Let's go taste
But how do they taste? Here we take a quick sip of the gin and rum, plus one of the whiskies.
Citrus Dry Gin
This one is full of delicious tangy citrus – aromas of orange peel and pink grapefruit jump out of the glass, along with juniper and coriander. This continues as you taste and is loaded with citrus peel, pith and heavy orange oils. Many earthy herbs give a wonderful warmth and depth.
Fat Jamaican Rum
A robust rum with aromas of golden syrup, tropical fruit (especially lychee and caramelized pineapple) and spices on the nose. Heavy and greasy on the palate, this rum envelops the palate with luscious notes of treacle, toffee and molasses and a pinch of white pepper.
Smoky blended malt
An explosion of vibrant peat smoke welcomes you to this whiskey. Hot bonfire ash mingles with something more earthy and medicinal. This sings on the palate with savory notes dominating – ash-like peat smoke and heavy spice supported by notes of honey and white chocolate.
—
For more information and to purchase the entire range, visit jgthomson.com