Whether you fondly look back on the 1990s or cringe at the mention of it, there's no denying that the decade has nurtured some iconic looks. Grunge was good. The sportswear too. That said, it also played host to some really awful trends — from boyband haircuts to baggy, well, everything. So with '90s fashion still in the spotlight, we're looking back at the good, the bad, and the ugly.
Below is our pick of the biggest fashion trends of the 90s. Some have proven their staying power, while others have been pushed aside. From center partings to bum bags, these are the 90s looks you need to know, and the reasons why you should (or might not) welcome them into your life.
Baggy Jeans
They swallowed shoes, they dragged on the floor and they absorbed rainwater like big nail sponges. But despite their shortcomings, baggy jeans were everywhere in the 1990s. It was like that for most of the decade, until eventually the leg openings became so wide and the back pockets so low that some young hip-hop artists were swallowed whole, never to be seen again.
In the years that followed, skinny jeans started to take over. Today, baggy jeans are making a comeback in the men's wardrobe and are becoming a major denim trend. Granted, they're not as serious as they used to be, but they're nowhere near slim. To strike the right balance, we believe that classic relaxed jeans are the way to go – the perfect way to keep this '90s staple alive without going full-on Limp Bizkit.
Long hair
For the past decade, short and medium length hairstyles have reigned supreme, but there was a time when longer hairstyles were the hairstyles du jour. '90s icons like Kurt Cobain, Brad Pitt, Johnny Depp and Leonardo DiCaprio made long wavy hair for men look good, while the mullets and Flock of Seagulls craze of the previous decade (thankfully) faded into oblivion.
Today, longer trims are all the way back on the barbershop menu. Short and medium length haircuts are still prevalent, usually accompanied by some sort of fade, but A-list style icons like Jason Momoa to Jared Leto prove that long hair can still work three decades later.
Bucket Hats
We could sit all day discussing the pros and cons of bucket hats, but not unlike Liam Gallagher himself, you either love them or hate them. Anyway, they are bigger now that they were in Knebworth in 1996.
A staple of the 90s and Britpop rave scene, these simple brimmed hats have become a symbol of hedonism and have secured their place as a festival uniform. You don't have to buy one, you don't even have to like them, but you do have to admit that the bucket hat has earned its place in menswear history.
High sneakers
Thanks to Air Jordan and Reebok, the '90s were filled with sky-high sneakers. Only hugging basketball and aerobics shoes were ubiquitous, and everyone from kids to celebrities got involved.
When a trend catches on like this, it usually fades pretty quickly, but high-tops are bigger now than they were in the '90s. These are sneaks with staying power and many of the styles that were popular back then are just as relevant today.
wind jackets
Windbreakers have been around since the 1970s, but were especially widespread in the 1990s. Decorated with colorful prints and day-glo patterns, they were the favorite casual outerwear of the decade. Geography excursions? bill. Day out on holidays? bill. Pub? bill.
For us, the windbreaker is still relevant today, although we would tend to stay away from the headache-inducing colors. Instead, stick to classic two-tone designs and keep this '90s icon alive the right way.
Frosted Tips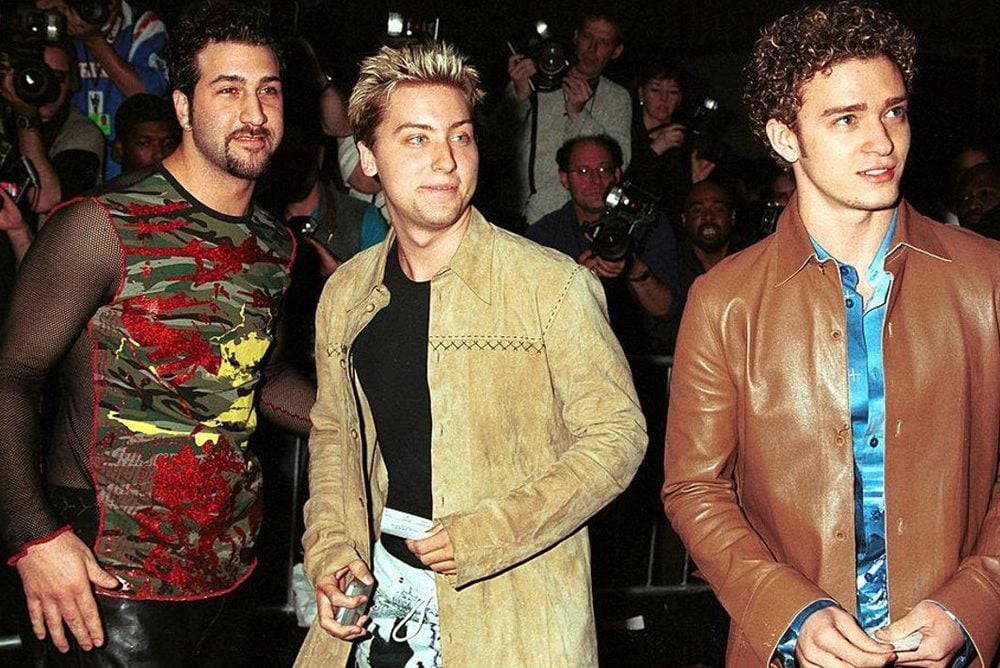 Boy bands from the nineties have a lot to answer for. Aside from awful music, frosted tips are arguably their worst offense. For the uninitiated, this quintessential 90s haircut meant bleaching only the ends of the hair, which was usually cut short and vertically up with wet-look gel.
Should you consider returning it? Absolutely not.
bum bags
Back in the 90s, when purses were the size of bricks and we also had Game Boys, Walkmen, and Tamagotchi to carry around, people needed some hip storage for their various accessories. That storage was the bum bag, also known as the bum bag. The ridiculous names were bad enough, but these hideous micro bags also came in lurid neon colors and drew attention to everyone's groins.
They weren't going to make a comeback, were they? Well yes and no. Reinvented as the cross-body bag, in tasteful designs and colors, the bum bag cleaned up like a rock star in rehab. Louis Vuitton is now one of the luxury brands that they sell hard.
dungarees
Is there any image more 90s than Fresh Prince-era Will Smith jovially shrugging at the camera in a billowing batik-print shirt, dungarees hanging perky over one shoulder? If so, we haven't seen it. These denim overalls were a staple of the 90s wardrobe, and while not every man had the cajones to take them off, they really worked when they worked.
Today, dungarees are mainly reserved for edgier dressers. While we can't see them making a full comeback, hats off to everyone with the styling chops it takes to get it right.
popper pants
Those of us who were there at the time remember the strange but not obnoxious breeze that crept in down the sides of these highly impractical sweatpants. We're still not sure what the design was actually for. Instead of an outside seam, this shiny jogger had a strip of poppers that ran all the way to the thigh. An all too inviting target for bullies and pranksters.
They're back, but only the most hardcore '90s revivalists need to sign up.
curtains
Not every style championed by 90s boy bands was destined for the cultural scrap heap. Example: curtains. Sure, until recently it was hard to imagine this outdated style being reborn, but here we are, all marching to the barbershop in unison with photos of Timothée Chalamet pressed to our chests.
Today, the center parting is almost the same, but the performance has changed. The 90s was all about straight lines and smooth hair. This time, however, it's all about messiness, texture, and asymmetry.
enveloping shades
Fashion is cyclical and starkly predictable. It doesn't matter how much you want to believe that a trend won't show up in 20 years, but it always will. Enveloping shades are one such item. They were huge in the 1990s, but looking back from the 2010s, their comeback was less likely than Lance Armstrong's.
However, enveloping shades are back whether you like it or not. Aerodynamic looking Oakley specs have gotten a lot of runway time in recent years and they don't seem to be going anywhere anytime soon. Whether you should participate or not, it really depends on your personal taste and style. What we're saying, though, is that they don't lend themselves particularly well to more traditional menswear.
cargo pants
Comfortable, practical and (depending on who you ask) stylish. What's not to like? Sure, they took on some doomsday prepper vibes for a while and disappeared into the nuclear bunker of fashion, but thanks to the ongoing obsession with functionality and the outdoors, cargo pants are back in full force.
If you haven't converted to the wonders of cargo pants yet, why not check out some of the more premium options on offer. Brands like Brunello Cucinelli and Monitaly make some truly upscale versions that are worth checking out.